In 2018, Houston Astros infielder Yuli Gurriel was debarred from five games for his racist gesture toward Los Angeles Dodgers pitcher Yu Darvish.
The incident occurred in the third game of the World Series the previous October, where the then-33-year-old Cuban-born Gurriel was accused of being racially insensitive toward Darvish, who is of Japanese and Iranian descent.
Gurriel had just smacked Darvish for a homer and was sitting in the dugout when TV cameras caught him pulling back the skin from the corners of his eyes to make them look slanted. Gurriel also mouthed the word "chinito" or "little Chinese boy" at one of his teammates. The word is used in some Spanish-speaking countries to refer to all Asian people.
"#BREAKINGNEWS: Astros' Yuli Gurriel suspended for 5 games next season over racist gesture at Dodgers' Yu Darvish http://abc7.la/2zNGvRN"- ABC7 Eyewitness News
While the Astros won 5-3 on the night, Gurriel's gesture spread all over the internet, leading the first baseman to apologize after the game:
"I didn't try to offend anybody. I was commenting to my [teammates] that I hadn't had any good luck against Japanese pitchers. … I didn't think anybody would think about what I meant [in that way]. I offer my apologies to baseball and anyone offended. If [Darvish] feels offended, I want to apologize to him."
A few weeks later, Yuli Gurriel told Bleacher Report:
"I was super surprised. Not only in Japanese culture is it not a big thing, but in the Cuban culture it's even less. When I found out the magnitude of how my words were portrayed, it felt terrible and obviously it was not my intent."
Gurriel said he was only communicating with his teammates about how he hadn't had any good luck with Japanese pitchers. He didn't think that something he meant casually would be tagged as a racial slur.
Gurriel received severe backlash for his actions from the MLB, his team and the people on the internet. The incident also booked him a place on MLB's Disabled List until mid-April 2018.
MLB Commissioner Rob Manfred told reporters at a news conference:
"There is no place in our game for any behavior like the behavior we witnessed last night. There is no excuse or explanation that makes that type of behavior acceptable."
The Astros also released a statement with Gurriel stating:
"I sincerely apologize to everyone I offended with my actions. I deeply regret it. I would particularly like to apologize to Yu Darvish, a pitcher that I admire and respect."
Yuli Gurriel told Bleacher Report that he had received aggressive messages on social media, constantly reminding him of his wrongdoings. He was raised in Cuban culture, where words like the one he used had no malicious intent. Therefore, he failed to figure out how the word would be portrayed in Japanese culture.
Although Yuli Gurriel's Astros teammates disapproved of his actions, they comprehended the root of the confusion. They understood how Yuli's different upbringing made him oblivious to the gravity of such words in America. His teammates talked about how Yuli was a great person inside-out and that he wouldn't even voluntarily hurt a fly.
Yuli Gurriel's brother, Lourdes, on finding out that the whole thing was a "big deal"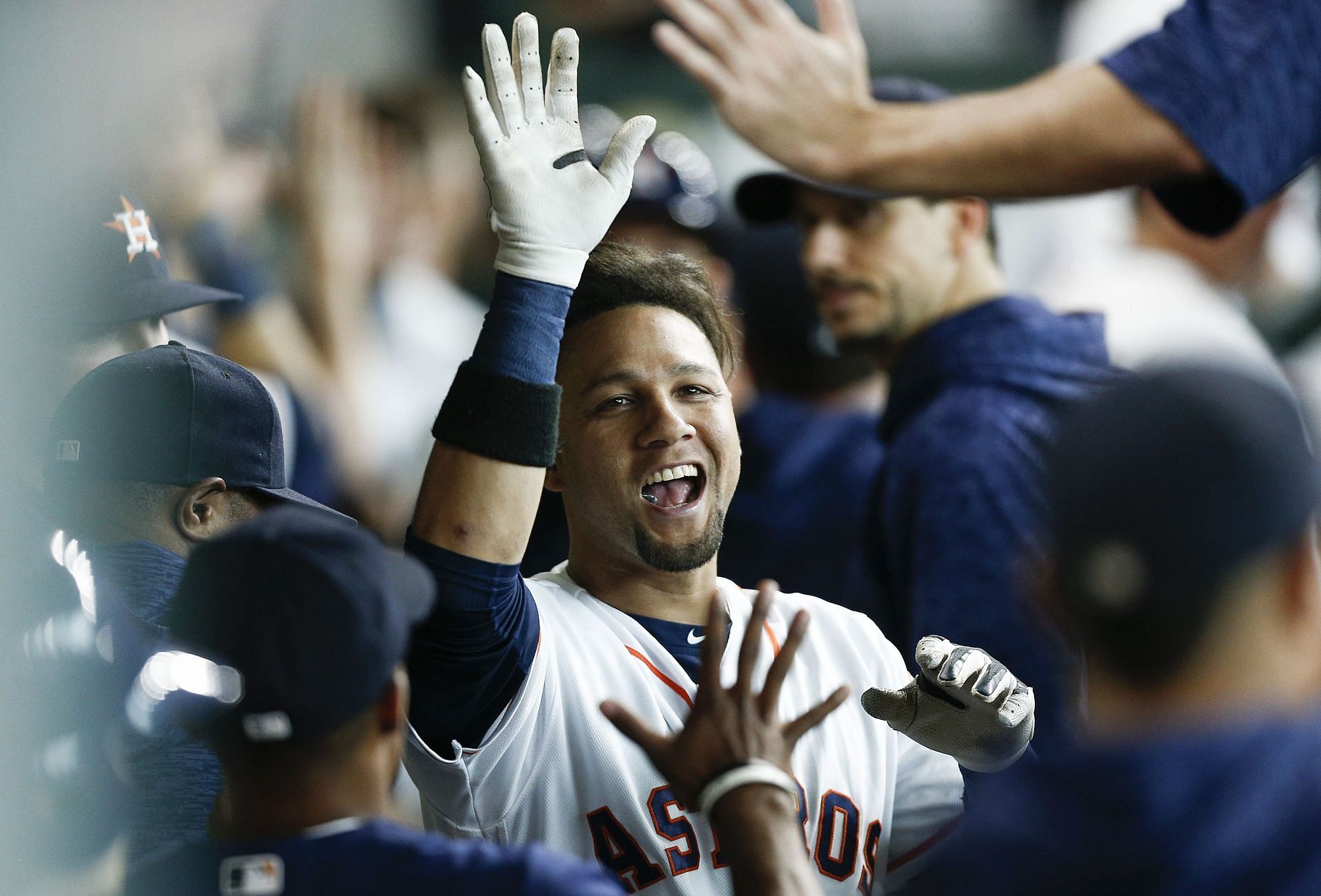 HOUSTON, TX - JULY 07: Yuli Gurriel #10 of the Houston Astros celebrates in the dugout after hitting a three-run home run in the third inning against the Chicago White Sox at Minute Maid Park on July 7, 2018 in Houston, Texas. (Photo by Bob Levey/Getty Images)
Lourdes, an infielder for the Toronto Blue Jays and Gurriel's brother, was playing in the Arizona Fall League when the event took place. He didn't realize how big of a deal it was until the Blue Jays called to make him aware of the incident in case he received any calls about the same. Lourdes said:
"To be honest, I didn't take it as anything that big. Then we found out later, it was a big deal."
Back in Miami, where Yuli Gurriel spent his winter, many people of Cuban-American descent approached him regarding the incident. Gurriel revealed that he told them how different American culture is and how what he did was deemed racist in America. This came on the back of an 8-hour-long sensitivity training course that he had to take.
Although Yuli apologized to the Dodgers pitcher right after the incident, there was no further communication between the two. However, following the event, Yu Darvish took to Twitter to reveal his thoughts:
"No one is perfect. That includes both you and I. What he had done today isn't right, but I believe we should put our effort into learning rather than accuse him. If we can take something from this, that is a giant step for mankind. Since we are living in such a wonderful world, let's stay positive and move forward instead of focusing on anger. I'm counting on everyone's big love."
As he was all set to resume his MLB journey, one of Yuli Gurriel's teammates said that while the reaction was definitely poor, it should not define Gurriel's career or who he is.
Poll :
0 votes
Edited by R. Elahi