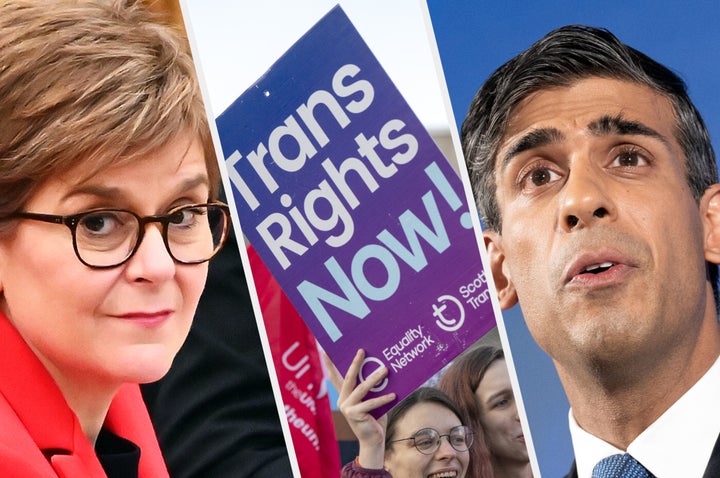 Nicola Sturgeon and Rishi Sunak are set to clash over the gender recognition bill
Getty
The government has just blocked Scotland's gender recognition bill, escalating the already simmering tensions between Downing Street and Holyrood.
The legislation was hailed for being a landmark moment for trans rights within the UK before Westminster – but now, it's the first Scottish law to ever be blocked for its impact on a UK-wide law.
Advertisement
The Scottish government have subsequently accused the central UK government of threatening its democratic rights and the very concept of devolution.
Here's what you need to know.
What is in the divisive bill?
First proposed by Scotland's first minister Nicola Sturgeon six years ago, the bill was meant to make it easier for people to legally change their gender.
Since 2004, if you want your affirmed gender to be legally recognised, you need a gender recognition certificate.
This legal document would allow you to update your birth/adoption certificate, get married or form a civil partnership in your affirmed gender, and have it on your death certificate when you die.
Advertisement
The UK government's website explains that the panel will make a decision on whether to grant an applicant a new certificate within 22 weeks.
Scotland's bill was meant to bring substantial reform to the whole process of applying for a gender recognition certificate.
It would:
Remove the need for medical diagnosis of gender dysphoriaMean applicants just had to live as their acquired gender for three months rather than two years, or six months if aged 16 or 17, prior to receiving the legal changeLower the age people can apply for a gender recognition certifications from 18 to 16.
The bill containing these changes passed by the Scottish parliament by 86 votes to 39 in December.
It meant Scotland would have been the first part of the UK to introduce a self-identification system for anyone who wanted to change their gender.
The Scottish government wanted to change these rules because it believes the current process is too difficult, invasive and distressing for the trans community who are already marginalised in modern day society.
Advertisement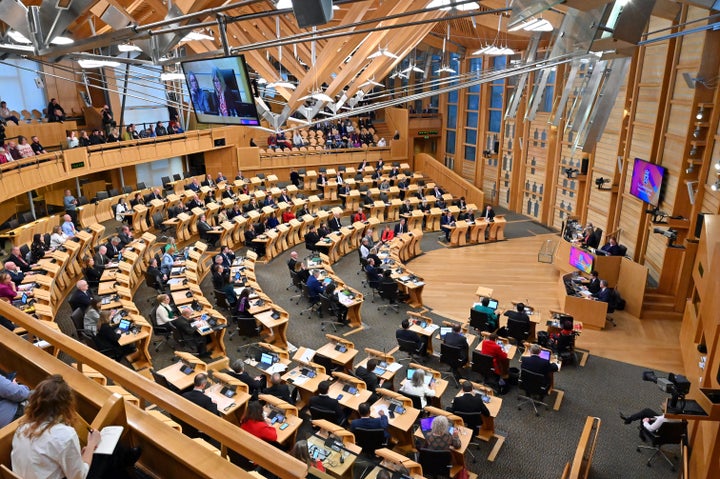 MSPs passing the Gender Recognition Reform (Scotland) Bill at the end of a specially extended session of the Scottish Parliament, after a debate which took place over three days, on December 22, 2022.
Ken Jack via Getty Images
What did the UK central government do?
Sunak's government blocked the legislation this week, after it had already been passed by the Scottish parliament.
Alister Jack, the Scottish secretary, confirmed on Monday night that he would use Section 35 of the Scottish Act 1998 to prevent the legislation going ahead.
The Scotland Act gave the Scottish parliament power to make its own laws on various issues.
Section 35, though, states that a UK secretary of state can prevent the bill getting royal assent – which is the final stage before the bill could officially pass into Scottish law – if they believe the bill could have a negative impact on legislation reserved to Westminster.
Now Jack's intervention means the bill will likely have to be reviewed by the UK government lawyers, before it could receive royal assent.
Advertisement
Jack did leave an option open for the Scottish government to "bring an amended bill back for reconsideration in the Scottish parliament" which could both respect "devolution and the operation of UK parliament legislation."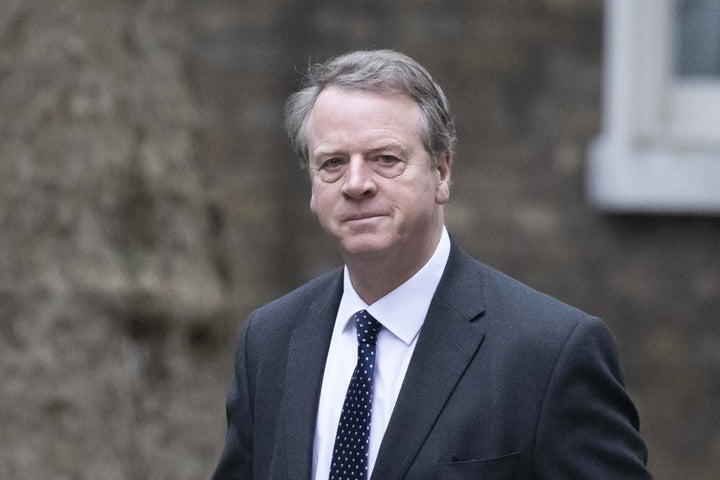 Scotland secretary Alister Jack has chosen the "nuclear" option in response to Scotland's gender reform bill, according to one critic.
Anadolu Agency via Getty Images
What are the concerns around the laws?
The ministers were allegedly worried that the bill may have an "adverse impact" on UK-wide equalities law.
Jack claimed the legislation would affect nationwide laws around equal pay, single sex spaces, and prison transfers.
He also pointed out that having "two different gender recognition schemes in the UK" would risk creating "significant complications" such as "allowing more fraudulent or bad faith applications".
Advertisement
The UK government has rejected claims they were trying to increase the divide with Scotland and stoking culture wars by opposing the legislation through such dramatic means.
Labour leader Keir Starmer has also that 16 year olds should not be able to legally change gender (although his party in Scotland disagrees).
How did Scotland react?
Sturgeon – who first proposed the bill six years ago – said there were "no grounds" for the UK government to block the legislation and added that it didn't affect the Equality Act.
She suggested Holyrood would launch a legal challenge instead, although they are waiting for more details from UK ministers.
"It will be using trans people... as a political weapon."

First Minister of Scotland Nicola Sturgeon says it would be an "outrage" if the UK government blocks the Scottish gender recognition bill, and will "embolden them" to block more bills, creating a "very slippery slope". pic.twitter.com/yazkFG5PlM— Channel 4 News (@Channel4News) January 16, 2023
Advertisement
Sturgeon also claimed that Sunak's government was using "trans people as a political weapon" and this was a "full-frontal attack" on the Scottish parliament.
She said that if the veto from Westminster was approved, it would be "the first of many", adding that using section 35 would create a "very, very slippery slope indeed".
Sturgeon tweeted: "This is a full-frontal attack on our democratically elected Scottish parliament and its ability to make its own decision on devolved matters.
″@scotsgov will defend the legislation and stand up for Scotland's parliament. If this Westminster veto succeeds, it will be first of many."
Scottish social justice secretary Shona Robison said: "This is a dark day for trans rights and a dark day for democracy in the UK."
Advertisement
And while the UK government has suggested amending the bill, it seems MSPs want to stand by the bill as it is.
Why does this clash matter?
This is perceived as a major intervention from the UK government. While the UK government has challenged Holyrood legislation in the past, they have never blocked a bill like this before.
Sunak's government's dramatic response to this bill is likely to strengthen nationalists' arguments that the UK is denying Scotland its democratic rights.
It also comes shortly after Downing Street refused Holyrood's request for a second independence referendum, too.
This was then escalated up to the Supreme Court, who decided that constitutional matters such as independence were indeed the responsibility of the central, not devolved, governments.
Advertisement
Sturgeon has since sworn that the next general election will be a "de facto referendum" on independence – so a vote for her party, the Scottish Nationalist Party (SNP), will effectively be a vote for leaving the UK. The SNP is already the largest party in Scotland, with a third of the available Scottish seats in the Commons.
Is it an attack on devolution or democracy?
This is the claim coming from Holyrood at the moment – but is it true?
Senior lawyer, Roddy Dunlop KC, tweeted that such allegations were inaccurate.
He said: "In a democracy, creatures of statute – such as the Scottish Parliament – act within the confines of the Act that created them.
"Section 35 is part of the Scotland Act.
"Its exercise is thus not anti-democratic. Rather, it is democracy in action."
He added: "Nor is it anti-devolution. Section 35 is part of the devolution settlement.
"The suggestion to the contrary involves arguing that s35 should *never* be exercised. Why, in that case, was it made part of the Act?
"If s35 has been misused, the Courts will intervene.
"Both sides are making accusations of bad faith. As this matter is clearly arguable in either direction, such accusations are unfounded IMHO [in my honest opinion]."
However, fellow barrister and director of Good Law Project, Jo Maugham, tweeted in favour of the reforms from Scotland, noting that the bill itself does not create "new rights for trans men and women".
Advertisement
Instead, he claimed: "There is widespread ignorance of quite how few additional rights a Gender Recognition Certificate gives to trans people.
"You don't need a GRC to change your name or gender on your medical records, passport, drivers' licence or so on."
He also said that the changes were in line with the government policy from 2017 that "being trans is not an illness and it should not be treated as such".
So - at the level of substance - these are not major changes, however you analyse them. And the UK already recognises many other countries' gender recognition certificates, issued under the procedures of those nations.

But the mechanic Alistair Jack has used is pretty nuclear.
— Jo Maugham (@JolyonMaugham) January 17, 2023
It's worth noting that the LGBTQ+ community is obviously disappointed, too.
Nancy Kelley, chief executive of LGBTQ+ charity Stonewall, said: "It is a matter of grave and profound regret that the prime minister has allowed trans people's lives to be used as a political football. This is not governing with compassion."
Advertisement