Man City boss Pep Guardiola says he has a few "ridiculous" tactical plans up his sleeve for Saturday's crunch trip to Man Utd.
City head to Old Trafford in the Saturday lunchtime kick-off needing a win to keep the pressure on Premier League leaders Arsenal, who boast a five-point lead over last season's champions.
Guardiola, though, comes up against an in-form United side that are on an eight-game winning run and rising up the table. Should Erik ten Hag's side win they would move to within a point of City.
The City boss, who first takes his side to Southampton for the Carabao Cup quarter-finals on Wednesday night, has a habit of springing tactical surprises in big games and has suggested he could do so again on Saturday.
"I would like to arrive against United more or less with the average of minutes in the legs quite similar because I have a few ideas, thoughts, ridiculous ones, against United."
Pep's record of tactical tinkering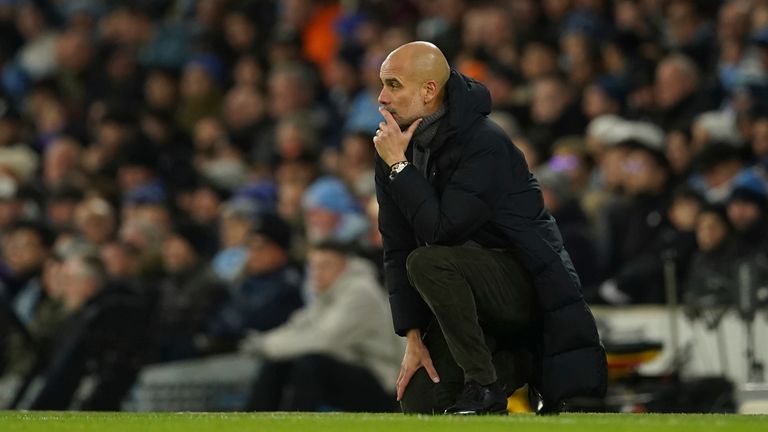 Image:
Guardiola has been accused of overthinking his tactics on the biggest stage before.
The 2021 Champions League final defeat to Chelsea springs to mind, when the City manager was widely criticised for playing without a holding midfielder and subsequently blamed in some quarters for the loss.
A year before that Guardiola switched to a back three against Lyon in the same competition at the quarter-final stage, in a one-legged game that City were heavy favourites to win.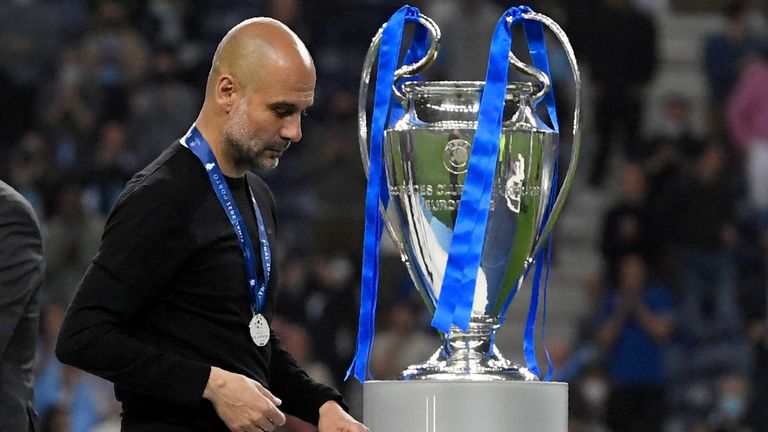 Image:
The tactical ploy ultimately backfired and cost City another chance at the Champions League - the competition that Guardiola says he needs to win to feel his time at the Etihad is "complete".
Guardiola was even asked about his tendency to tinker before his side played Atletico Madrid in the Champions League last April and delivered a sarcastic response.
"I overthink a lot," he said. "I love to overthink and create stupid tactics again. Tonight I will create an inspiration and do incredible tactics. We play with 12."
Guardiola, widely regarded as one of the best coaches ever, has also had success when veering from his blueprint.


Manchester City
Tottenham Hotspur
Thursday 19th January 7:00pm
Kick off 8:00pm
City dominated United at Old Trafford three years ago in their Carabao Cup semi-final first leg when Guardiola used Kevin de Bruyne and Bernardo Silva as strikers instead of Sergio Aguero or Gabriel Jesus.
Moving Jesus out to the wing in favour of deploying one of his attacking midfielders in a more advanced role also paid dividends before. City snatched a win at Real Madrid in the Champions League last 16 in 2020.
Guardiola has shown he can get things wrong. But more often than not, he hits the mark.
Does Guardiola tend to overthink big games?
The Athletic's David Ornstein speaking on Sky Sports News:
"We all remember that Champions League final against Chelsea where Pep Guardiola didn't play a holding midfielder for the first time in 50 plus matches.
"I'm not sure how comfortable the City players were heading into that game against Chelsea.
"Pep does seem to try things differently when it comes to the biggest stage and some have perceived that as a reason why they haven't won the Champions League.
"When it comes to Manchester United these matches are unpredictable anyway. Manchester United have actually got a pretty good record in these derbies but when City have won they've won quite handsomely.
"Far be it for me to tell Pep Guardiola how to manage. But it is interesting that he does perhaps tend to overthink these things when the scrutiny is at its highest."
'This Manchester derby is massive'
The Times' Charlotte Duncker speaking on Sky Sports News:
"It is absolutely massive. When you go back to the start of the season I don't think any body would have put Manchester United and Manchester City in the same conversation in terms of competing near each other.
"The fact that Manchester United are in such a good run of form and they are hosting the game at Old Trafford and if they win there is just one point between them.
"Going back to the start of the season there is not many people that would have said if they beat City at home after the World Cup break they would be one point behind them.
"There has been a big drop-off over the years. Man City have gone there and blown them away and when Man Utd have won it has never meant anything in terms of competing for things.
"The fact they are so close together is testament to Erik ten Hag and the work he has done at Man Utd."