Germany has answered repeated calls by Kyiv and approved the delivery of Leopard 2 tanks to Ukraine, as well as opening the road for third countries to re-export them amid signs Ukraine is struggling in its battle against invading Russian forces after its troops were forced to withdraw from the town of Soledar.
German Chancellor Olaf Scholz said the decision, approved on January 25, was "the right principle" in the face of Russia's unprovoked invasion of its neighbor. German Defense Minister Boris Pistorius added that the first Leopard tanks could be in Ukraine within three months.

The decision comes after weeks of pressure by Ukraine and its allies and is reported to be most likely followed by the United States also greenlighting the delivery of Abrams tanks to Kyiv on January 25.
Live Briefing: Russia's Invasion Of Ukraine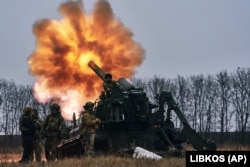 RFE/RL's Live Briefinggives you all of the latest developments on Russia's ongoing invasion, Kyiv's counteroffensive, Western military aid, global reaction, and the plight of civilians. For all of RFE/RL's coverage of the war, click here.
According to the German government, Berlin's goal is to quickly establish two battalions with Leopard 2 tanks for Ukraine, adding that it would, in the first stage, provide 14 tanks from its military stocks.

Scholz said Western allies would keep supporting Ukraine, but also warned that decisions must be made with an eye on whether they could further inflame the conflict, which is now in its 12th month.

"We must always make it clear in everything we do that we are doing what is necessary and possible to support Ukraine, but that at the same time we are preventing the war from escalating into a war between Russia and NATO," Scholz told the Bundestag, Germany's lower house of parliament.

Ukrainian President Volodymyr Zelenskiy thanked Scholz for Germany's "important and timely decisions," saying they were a "green light for partners to supply similar weapons."

Kyiv hopes the move will alter the balance on the battlefield as Russia continues to pile massive pressure on Ukrainian defenders in the eastern part of the country, where Ukraine on January 25 confirmed that it had completely withdrawn from the strategic town of Soledar.
"The first tank step has been taken," said Andriy Yermak, the head of Ukraine's presidential administration, adding he hopes this will be the start of a "tank coalition" to address Kyiv's needs.
Poland, Spain, Finland, the Netherlands, and Norway are some of the countries expected to follow suit and supply some of their Leopard tanks to Ukraine.

"Spain is ready...to deal with our allies in any way necessary, whether that means sending Leopards, training in the use of Leopards or help in their maintenance and upkeep," Defense Minister Margarita Robles said, without providing further details.
Germany's announcement was met swiftly with support from the West, and derision from Moscow.

British Prime Minister Rishi Sunak, who has already announced plans to send 14 Challenger 2 tanks to Ukraine, welcomed Germany's decision to further "strengthen Ukraine's defensive firepower."

"Together, we are accelerating our efforts to ensure Ukraine wins this war and secures a lasting peace," Sunak said on Twitter.
Polish Prime Minister Mateusz Morawiecki, whose government has been pressing Germany for weeks to allow the delivery of Leopards to Ukraine, thanked Scholz for the decision.

"Thank you @Bundeskanzler Olaf Scholz," Morawiecki wrote on Twitter. "The decision to send Leopards to Ukraine is a big step towards stopping Russia."
NATO Secretary-General Jens Stoltenberg "strongly" welcomed Germany's decision, saying it can help Kyiv defeat Russia's invading forces.

"At a critical moment in Russia's war, these can help Ukraine to defend itself, win & prevail as an independent nation," Stoltenberg wrote on Twitter.

Russia, however, was angered by the decision with its ambassador to Germany, Sergei Nechayev, calling it "extremely dangerous." He accused Berlin of being "inclined to permanent escalation" of the conflict.
"This extremely dangerous decision moves the conflict to a new level of the standoff and contradicts German politicians' statements about Germany's unwillingness to get involved in it," he said, adding that "Germany, like its close allies, is not interested in a diplomatic resolution of the Ukrainian crisis, and is inclined to its permanent escalation and limitless pumping-up of the Kyiv regime with more deadly weapons."
WATCH: As Ukrainian artillery pounds Russian positions, a military doctor said work in his field hospital is increasingly intense and a drone unit reported that Russia was massing further columns of artillery. Current Time correspondent Andriy Kuzakov reports from the front line.
In Moscow, Kremlin spokesman Dmitry Peskov said the West's policy decisions, including sending the tanks, were creating a "very, very tense" security situation in Europe and for the world as a whole.
In Washington, the administration of President Joe Biden is likely to make an announcement regarding shipments of the U.S.-made Abrams tanks to Ukraine as early as January 25, U.S. media reported, citing anonymous sources.

Two U.S. officials familiar with the matter told CNN that the administration was finalizing plans to send approximately 30 Abrams tanks to Ukraine.

However, it remains unclear how fast such tanks could be delivered to Ukraine, and it could take months or even years for the U.S. war machines to reach the battlefront, media reports said.

There was no immediate reaction from the Pentagon.

In an apparent battlefield setback, Ukrainian forces on January 25 admitted that they had completed the withdrawal from the strategic town of Soledar in Donetsk after weeks of intense fighting with Russian forces.
Reuters and AFP quoted a Ukrainian military spokesman as saying on January 25 that the move saw soldiers move back to predesignated positions.

"After months of heavy fighting, including over the past weeks, the armed forces of Ukraine left (Soledar) and retreated along the outskirts to preprepared positions," AFP quoted Ukrainian military spokesman Serhiy Cherevatiy as saying.

Russia earlier this month claimed to have established control over the salt-mining town with a prewar population of around 10,000. Soledar is located some 20 kilometers from the strategic city of Bakhmut, where pitched battles have been under way for months without either side prevailing.

Earlier on January 25, the Ukrainian military said that despite suffering "numerous losses," Russian troops kept up their offensive in Donetsk and Luhansk regions, with attacks directed mainly on Bakhmut and Avdiyivka in Donetsk, where heavy fighting has been under way for months.

"The enemy, suffering numerous losses, still does not stop offensive actions in the Lyman, Bakhmut, Avdiyivka, and Novopavlivka directions. On Kupyansk, Zaporizhzhya and Kherson -- it is being on the defensive," the report said.
With reporting by Reuters, AFP, Politico, CNN, and dpa