Coach Khalid Hamid still remembers the days in 2005-2007 when he would take a young Jasia Akhter to play matches in Shopian and other small villages in the then Pulwama district in Jammu and Kashmir. The former cricketer would not tell the villagers in Brari Pora and Kaprin villages about taking a young girl for cricket matches. With insurgency on a high during those years, Hamid would often travel in shared taxis along with Akhter for the matches.
Earlier this week, 34-year-old Akhter was picked up by Delhi Capitals for Rs 20 lakh in the inaugural Women Premier League auction and 49-year-old Khalid remembered the early days of his trainee as a cricketer.
"When some village boys told me that Jasia plays cricket with them, I was impressed by her power hitting and the ability to bowl bouncers in the village ground. During 2004-2006, conditions in Kashmir were not good and it was almost at the peak of militancy again. Chup chup kar le ke jata tha Jasia ko cricket khilane. Kuch waise log bolte the ladki ko India khilaoge kya? Hamein hi pta hai ki kahan kahan jane main dar lagta tha (I would take Jasia for playing cricket in villages in hiding. Those people will tell me you want to let the girl play for India? Only I know how I managed to help her play amid all those fearful days). To see Jasia play in WPL now and someday for India will be the reward for all those years," shares the coach while talking with The Indian Express from his village Kaprin in Shopian district in Kashmir.
Akhter , who is the eldest of five siblings, grew up seeing her father Gul Mohammad Wani working as a labourer with only an acre of farmland belonging to the family in their village Brari Pora. A five-year-old Akhter would often see her elder cousin going to play cricket matches in the village and later accompanied him to play cricket with the village boys.
She still remembers the wooden bat made by her father and kept in the rice container at their then mud house in the village. "My elder cousin Reyaz Ahmad Wani used to play cricket in the village and I often accompanied him to see him play. Some time later, I played with the village boys. My father had made a willow bat and had kept it in the rice container fearing that I would hurt myself with it. I would take the bat out and hide in my phiren and go to play with the boys in the village ground," remembers Akhter.
While Akhter also opted for athletics and softball at the Government Higher Secondary School at Kaprin, a village two kms away from her village, the youngster was also picked for the trials by the PT Usha Academy held in Pahalgam. But it was cricket, where she found her passion.
It was on the insistence of her uncle Farooq Ahmad Gani that she went to Srinagar in 2010 to give JKCA trials and was selected in the JKCA senior team. "My father worked as a labourer in the village fields as the apple saplings at our farm were not grown yet and we only grew maize. I would also help him on the farm. Most of the money he earned was spent on food and other expenses and people like Hamid sir and my uncle Farooq Ahmad Gani, who died in 2014, helped me a lot," remembers Akhter.
Harman impressed
In 2011, Akhter played for the JKCA Women's team in a match against Harmanpreet Kaur led Punjab team in the BCCI domestic competition at Jammu. She played a quickfire knock of 39 runs off 25 balls in the match following which Kaur gave Akhter her bat. The following year Akhter decided to shift to Amritsar to play for BBK DAV College team and later played for PCA women's team. "Most of the members of the Punjab team were astounded by the knock played by Jasia against our team. Harman di gave her own bat post the knock and we all could sense what it meant for her at that time. In the later years, as the Punjab camps happened in winters, she often arrived late at the camp due to snow or curfew but it did not hamper her willpower to excel," says Punjab women cricketer Parveen Khan.
Advertisement
Akhter kept the bat for more than five years and would later play for Punjab womens team in various formats. In 2019, Akhter starred in Punjab's title win in the BCCI Senior Women's T20 trophy with a knock of 56 runs off 54 balls in the final and smashed more than 360 runs in the tournament. "When Harman di gave me her bat, it was the first time that I got my own professional bat. I played for more than five years with it. When I shifted to Amritsar, I stayed with Parveen and other team-mates in a rented accommodation. After paying rent of Rs 1500, I was not left with much money and there were times when I would take the 12-hour bus journey back to Srinagar without eating anything to save money. Playing for Punjab gave me a lot of confidence as well the finances to support my family," says Akhter.
In 2019, Akhter was also picked for the Trailblazers in Women's T20 Challenge and in 2021, the cricketer moved to Rajasthan Cricket Association. This year, she smashed 501 runs including two centuries and a fifty in the BCCI Senior One Day Trophy followed by being the second highest run-getter in the BCCI Senior T20 tournament with 273 runs.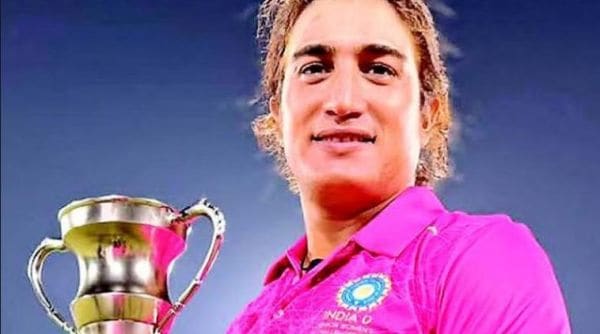 Jasia Akhter. (Twitter)
Jasia Akhter. (Twitter)
In WPL, Akhter will be playing along with Meg Lanning, Shafali Varma and Jemimah Rodrigues for the Delhi Capitals. "During the women's T20Challenge, I got to spend time with players like Smriti Mandhana, Suzie Bates and others and learnt a lot of things. It's been a long journey for me and I always tell the girls in my village that they too can dream of playing cricket for India one day," says Akhter.
Advertisement
At Shopian, District Youth Welfare officer Noor-Ul-Haq has been getting repeated calls from eager parents to ask about cricket training. Haq, accompanied as team manager in Akhter's school years, sees the WPL signing as a big thing. "In recent years, a lot of girls have started playing in big cities like Srinagar and other centres. But with the WPL signing of Jasia, more and more girls will play cricket in rural areas. A lot of parents have been approaching us this week," says Haq.
As for the Wani family, father Gul Mohammed Wani and mother Raja Begum along with her siblings Sohail Ahmad Wani, Niyaz Ahmad Wani, Khushboo and Suratjahan are eagerly waiting to see Akhter in WPL. "Whenever she visits home, she brings jerseys for the boys and girls of the village apart from bringing some money to get our home constructed in the village. She always tells us not to worry and only cheer for her on TV," says younger brother Sohail.