The death toll in
New Zealand
continues to rise due to the "extreme" flooding hitting Auckland.
Three people have died - two in Wairau Valley on
Auckland
's North Shore and one in Remuera - in separate incidents and as the flood emergency continues.
And authorities warn that number could rise with a fourth person has been reported missing and more bad weather on the way.
READ MORE: 
State of emergency declared in Auckland over widespread flooding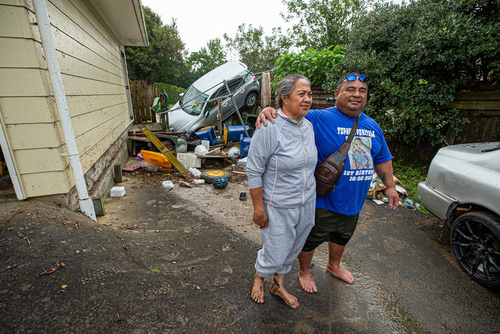 Safunga and Seve Uatea have lived in the Kainga Ora property since 2014 and and have never seen flooding like this. (Stuff )
The super city recorded its wettest days ever after more than 150mm of rain fell in just three hours on Friday, with further falls today.
The sudden and widespread flooding lead to a state of emergency declaration and saw the city's International Airport remain closed all of Saturday.
Exhausted travellers stuck at Auckland Airport face another night with nowhere to go, as the timeline for resuming international flights is repeatedly delayed.
"We know this is extremely frustrating but the safety of passengers is our top priority," Auckland Airport said in a statement on Saturday afternoon.
New Zealand Prime Minister Chris Hipkins, center, talks to residents affected by flooding in Auckland, Saturday, Jan. 28, 2023. Record levels of rainfall pounded New Zealand's largest city, causing widespread disruption. (Dean Purcell/New Zealand Herald via AP)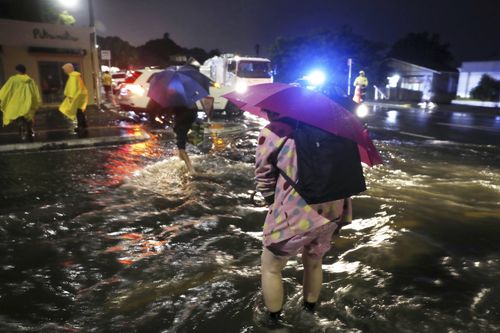 People cross a flooded street in Auckland, Friday, Jan. 27, 2023. Record levels of rainfall pounded New Zealand's largest city, causing widespread disruption. (Dean Purcell/New Zealand Herald via AP)
While the domestic airport had re-opened for travel on Saturday, international passenger departures will resume around 5am tomorrow (3am Sunday AEDT) and international arrivals from 7am (5am AEDT).
New Zealand prime minister Chris Hipkins departed Wellington for Auckland in the morning, for a visit to the city following its catastrophic flooding.
Countless others have been displaced by flooding but the worst might not be over yet.
MetService in New Zealand have issued fresh storm warnings, valid from 9.30pm (7.30pm AEDT) on Saturday to 9.00am (7am AEDT) on Sunday.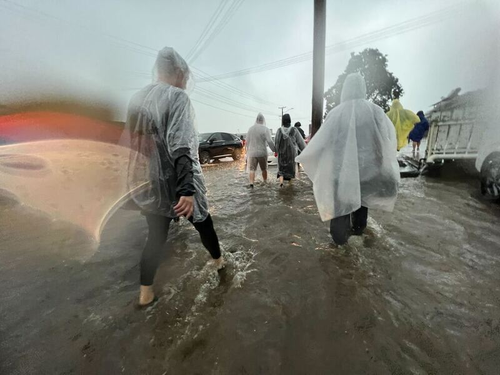 Elton John's final show at Mt Smart has been cancelled (Stuff)
The Coromandel Peninsula, Bay of Plenty, Rotorua and Taupō have been placed under a severe thunderstorm watch as the storm travels south.
MetService are predicting that some thunderstorms may become severe, producing localised downpours with intensities of 25 to 40 mm per hour.
READ MORE:
Mum dies suddenly while getting child ready for first day of school
The Elton John concert at Mt Smart on Saturday night was also cancelled as was Friday night's, which had been deemed "too dangerous".
Flood deaths
On Friday evening, police responded to a call at about 7.30pm near Target Rd, where a man had been found dead in a flooded culvert.
About 12.30am, police were called to a flooded car park on Link Drive, after a report of another man found dead.
Inquiries into the circumstances of both deaths are ongoing.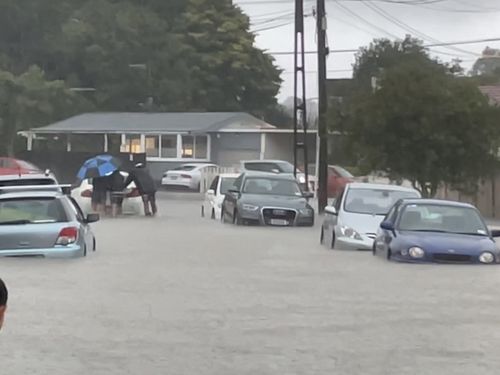 Auckland floods car stuck after Elton John concert cancelled. (Stuff)
Residents inundated
Last night local residents of Aliford Avenue, One Tree Hill, pushed a number of cars that were swamped by floodwaters.
These were Elton John concert goers who parked and walked only to return when the concert was cancelled to find their cars swamped and unable to start Louise Nicholls said in an email to Stuff on Saturday.
A container on Auckland's North Shore was shifted metres away from its original location after flooding on Friday night.
READ MORE:
Warning for Aussies as mosquitos skyrocket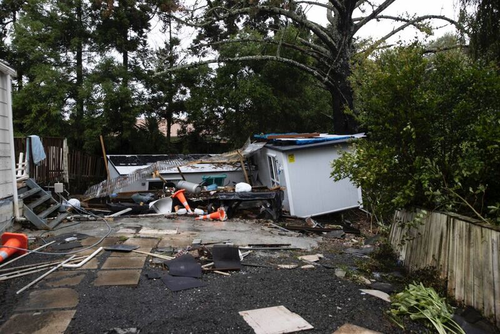 A container on Auckland's North Shore was shifted metres away from its original location after flooding on Friday night. (Stuff)
Sam Paumolevuka lives in a flat on Sunnynook Road and said it was his landlord's container that had been shifted due to the severe weather.
Kevin Webb and Jay Saussey lives on Mount Eden Road in Auckland where flooding came up to chest level in their home.
"I was in panic mode, and then just tried to get out of the water that was rising so quickly."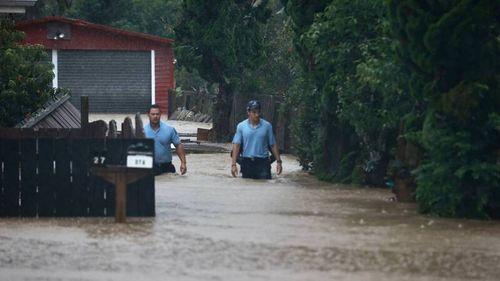 Locals are reporting their homes were inundated by waist deep water. (Stuff)
Wet weather continues
MetService is warning of more rain throughout the day and there's a chance of another thunderstorm with a further 23mm expected on Saturday.
The rain is set to continue for the whole of next week, but weather forecasters are predicting the heaviest falls will be further south.
The Auckland Airport weather station recorded the wettest 24 hours on record and wettest January on record.
The wettest January was in 1986 with 20cm and the wettest month ever July 1998 30cm. This January has hit 32cm so far.
The thunderstorm watch was lifted at 7.31am this morning.
Auckland Airport
Auckland International Airport had significant flooding after the heavy rain on Friday, which grounded all planes and travellers, who had to spend the night at the airport.
More than 200 passengers due to fly to Sydney at 6.15pm on Friday were kept on a plane overnight, as they had already boarded when the flight was cancelled.
Air NZ has diverted 12 international flights after Auckland Airport closed yesterday afternoon due to significant flooding, with thousands left stranded.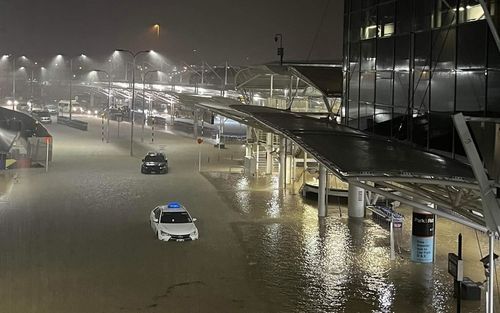 No flights are going in or out of Auckland Airport after it flooded on Friday night, leaving thousands stranded. (Sarah Crouch)
Sydney man Mark Andrews was due to fly home at 6.15pm on Friday, however the flight was cancelled after passengers had already boarded the plane.
The more than 200 passengers were kept on the plane until 1.45am and were treated as if they were flying anyway, with crew providing meals and turning the lights off so people could sleep.
Those in business class were treated to champagne.
Only half of the plane's toilets were working, Andrews said. "They (the crew) were worried about that," he said.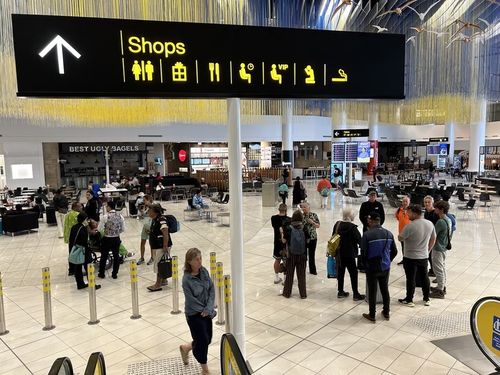 The airport was described as a "zombieland" as passengers were forced to spend the night. (Stuff)
He added that the crew on the plane were great and the vibes on the plane were good, with passengers chatting to one another and sharing charging cables.
The passengers were let back into the airport at 1.45am as the plane was running out of water.
Inside the airport it was like "zombieland", Andrews said, with about 1000 displaced people walking around or sleeping on the floor.
No one could leave as the downstairs terminals were flooded.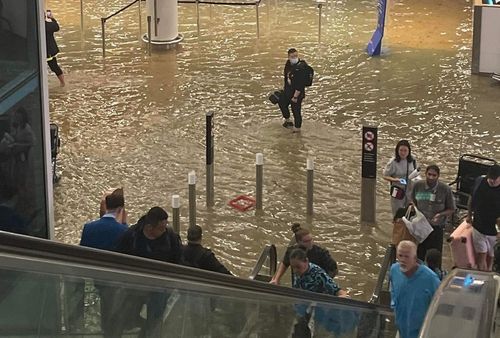 Auckland Airport was inundated by floodwaters, some travelers headed home but other were stuck on a plane. (Sarah Crouch)
Blankets that were promised to passengers were not handed out until 5am.
"A lot of people were cold," Andrews said.
Flights turned around
An Emirates flight to New Zealand has turned around midway through its journey as the torrential rain which hit Auckland forced the closure of the airport.
Flight EK448 had departed Dubai just before 11am on Friday (local time) and was halfway through its 15-and-a-half-hour journey before the decision was made to head back to the United Arab Emirates.
The airport's closure came hours after a landing plane hit and damaged several runway lights, causing major delays to flights.
The Emirates A380 wasn't the only long-haul flight which had to turn around on Friday.
An American Airlines service from Dallas Fort Worth to Auckland had to return to Texas after a 10-hour flight to nowhere.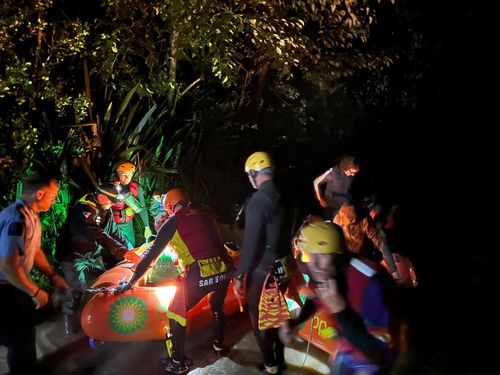 Fire and Rescue New Zealand worked through the night to attended to 2000 calls for assistance. (Stuff)
Emergency response
Fire and Emergency crews have responded to 719 weather related incidents across Auckland between Friday morning and 7.30am on Saturday.
District Manager Brad Mosby says there were 2242 calls answered by Fire and Emergency Communications Centre staff, which resulted in 2074 calls for assistance during the weather event.
These included:
126 rescues of people trapped in cars and houses, or involved in motor vehicle crashes
84 priority one incidents (where there was a confirmed threat to people)
237 priority two incidents (where there was a possible threat to people)
The rest of the 719 responses comprised private fire alarm activations, structure fires and medical call outs.
Sign up here
to receive our daily newsletters and breaking news alerts, sent straight to your inbox.