Andrew Marr: Rishi Sunak's 'kerfuffle reshuffle' will cause a lot of commotion for little tangible change
Rishi Sunak's cabinet "kerfuffle reshuffle" is just another in a line of government reshuffles that is likely to cause a lot of "short term fuss and commotion" for the sake of little tangible change, Andrew Marr has said.
Mr Sunak today announced the creation of four new government departments - business and trade, energy security, science and culture. A number of senior MPs have been made Secretaries of State in new roles.
That includes Grant Shapps, who was appointed energy security and net zero secretary, moving from the old business, energy and industrial strategy portfolio.
Greg Hands was also confirmed as the new chairman of the Conservative party, after Nadhim Zahawi was sacked following a row over his tax affairs.
But on Tonight with Andrew Marr, the presenter said the mini cabinet reshuffle is likely to represent cause more "short term fuss and commotion" rather than real, discernible change.
Watch Tonight with Andrew Marr exclusively on Global Player every Monday to Thursday from 6pm to 7pm.
Speaking on Tonight with Andrew Marr, he joked: "I start with news of a really important government reshuffle. Sir Simon Cardboard becomes portfolio minister.
"That's his ninth job in two years. Flat-Package is out. We've just been told that Sarah Plywood is moving sideways to the key role of Secretary of State for Logistics Solutions.
"Rosie Holt's former department will renamed the Ministry of Folk Art and Street Cleaning, while the old Business Cohesion department is being broken into three to become the Dep, the Art and the munt.
"The prime minister has appointed Mr Sidney Knee-'em-where-it-Hurts as deputy chairman of the Conservative Party, in a move described by colleagues as demonstrating that he has lost none of his feeling for the mood of the grassroots, or his sense of humour."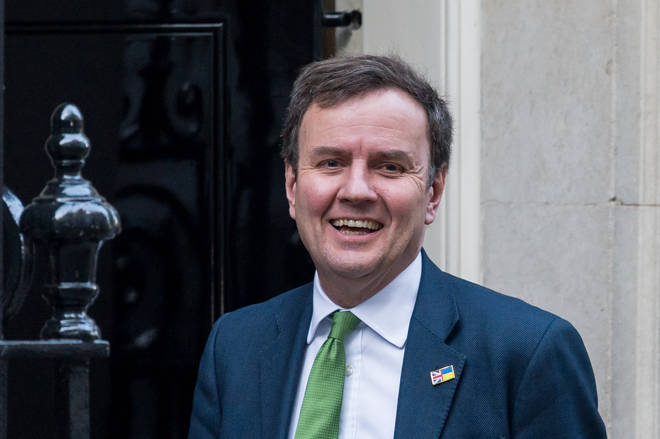 A newly appointed Conservative Party Chair Greg Hands arrives in Downing Street.
Picture: Getty
You can also listen to the podcast Tonight with Andrew Marr only on Global Player.
Andrew continued: "Now it's possible that I might have got some of the details wrong, but my point largely stands. Today the alphabet soup of government department has been diced and reassembled.
"England is getting her 6th housing minister in just 12-months. There have been 5 secretaries of state in charge of the department for culture media and sport in 5 years.
"10 education secretaries in 10-years, 1 for every year since the Conservatives came to power. 9 Conservative Party chairman in 5-years, four home secretaries in the last year alone and six health secretaries in the last five years.
"It's a good system if you don't want politicians to understand what they're up to, or to be in properly in charge. So well done all.
"But there was more - across Whitehall, more new acronyms, differently coloured doorplates, more rearranged office furniture and no doubt more slightly confused civil servants wondering who'd nicked the coffee machine.
"In all fairness, this might, just might, eventually mean more focus on net zero and even science…but at the expense of a lot of short-term fuss and commotion. You could call it the kerfuffle reshuffle."